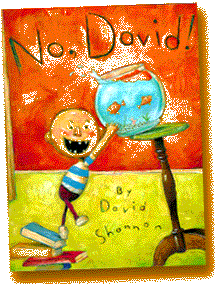 If you haven't spent much time around children's books recently, you might not be familiar with "No David" by David Shannon. While this post isn't exactly about the book, I sure don't mind putting a plug in for it. Especially since it was based on something he wrote when he was five years old! Writing prodigies… gotta support 'em.
;
Anyway, life with Loki Kittenpants is a constant No David situation. No Loki, don't climb the curtains. No Loki, don't bite the handicapped kitty's tail. No Loki, don't chew the electrical cords. No Loki, don't eat that nasty bug!
;
Try writing when you have about fifteen to thirty seconds between No Loki episodes. It's not conducive to productivity. But then, just like David's mom, I look at his sad little face after I've fussed at him and I have to stop and hug him and scritch his teeny tiny soft ears, sigh and say "Yes Loki, I love you."

Loki in lockdown. We do not eat our siblings!