Newest Release: 
Buy In Discretion: Amazon Kindle
Buy In Discretion: Barnes & Noble Nook
Buy In Discretion: Riptide Publishing
By Michelle Moore and Reesa Herberth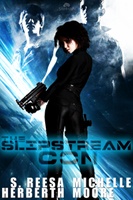 The Slipstream Con
(Ylendrian Empire)
Samhain Publishing,
---
Is love the biggest con of them all?
A Ylendrian Empire story.
For three years, Kellen Frey has led bounty hunters Tal and Vanya on a merry chase, evading capture with flair and style. Now, just when they finally have their pet project—and object of their mutual fantasies—cornered, the elusive con artist turns the tables and gives himself up. A sudden attack of conscience, perhaps? Tal and Vanya know better.
Their suspicions are confirmed when a crime lord comes dangerously close to killing them all, and the rapidly sickening thief is forced to confess the truth—he's been accidentally dosed with a highly illegal form of nanotechnology.
If Kellen can't get his hands on another dose, he's finished. The problem is, the only thief who's ever broken in to Slipstream Labs is his ex-girlfriend, and she's allergic to bounty hunters. As he does his best to play both sides, he struggles with his growing desire to be more than a prisoner to Tal and Vanya. Without trust, they won't survive long. The clock is ticking as they race to uncover a conspiracy that spans the Ylendrian Empire.
---
Product Warnings
This book contains an anti-hero with no qualms about redecorating your spaceship, a heroine capable of killing you with her hair stick, and another hero who would like nothing more than to shag them both without the inconvenience of a conscience.
---

Read an excerpt on the Samhain Publishing site.
Buy The Slipstream Con from Samhain Publishing
Buy The Slipstream Con from Amazon
Buy The Slipstream Con from Barnes and Noble
---
Want, Take, Have: A Slipstream Con short story
A short story set approximately one year after the events of The Slipstream Con.  Contains minor spoilers for the book.
---

The Balance of Silence
(Ylendrian Empire)
Samhain Publishing
9.14.2010
---
Welcome to the jungle—where the found are lost and the lost are redeemed.
Riv is a man adrift, hoping that running supplies for ReliefCorp will restore his faith in mankind—and in himself. Deep in the war-torn Maltana rainforest, he stumbles upon a local bar that suits his mood: good food, bad attitude. The entertainment, though, is unexpected. A skilled piano player who avoids eye contact, flinches when anyone approaches…and warns Riv of an ambush by tapping out the planetary anthem for Riv's homeworld of Karibee.
The least Riv can do for the mute piano man, "Ducks", is take him to the nearest spaceport for help. On their harrowing journey to escape Maltana, Riv makes a horrifying discovery. Ducks endured torture that scarred his mind as well as his body. Still, before he leaves the man safely in a treatment facility, Riv manages to earn what little trust Ducks has to give.
Months later they reconnect, and while it's clear their instant attraction was no fluke, there's still a piece missing. Ducks' voice. To help him find it again, Riv will have to expose the painful past that tore a hole in his own life. And hope that together, their ragged edges will fit together to form a whole.
---
Product Warnings
This book contains fluffy blond hair, sugary soda that will rot your teeth out, one unfortunate first name, and one mute amnesiac with a sarcasm fetish, all wrapped up in two selfless but mildly unstable guys who accidentally find their happily ever after. In SPACE!
---

Read an excerpt on the Samhain Publishing site.
Buy The Balance of Silence from Samhain Publishing
Buy The Balance of Silence from Amazon
Buy The Balance of Silence from Barnes and Noble
---
By Michelle Moore

Enchanted Grounds
Dreamspinner Press
---
When Max ducks into a neighborhood coffee shop to escape an oncoming rainstorm, he's greeted with good cheer,
freshly baked cookies, and a mysterious barista, Kristie, who seems to know exactly what Max needs. Charmed by
the café, Max returns, and as he makes connections with the other patrons, his creativity returns as well. Between
the daily dose of magically delicious baked goods and the nightly dreams of a phantom lover, Max is starting to
wonder just how enchanted he is… and if he can keep the dream from ending.
---
By Reesa Herberth

Fin de Siecle,
from the anthology "Sindustry: Volume 1"
Dreamspinner Press
---
Paris at the close of the 19th century is a city ripe with opportunity, full of men trying to make a name with their talent. While Gabriel has put aside his dreams of a career in art, he's content with his practical, pleasure-driven life as a highly paid prostitute. He certainly never intends to act on his fascination with Jean, the young artist he meets on the banks of the Seine, even when he reluctantly agrees to model. For the right price, Jean can have Gabriel's body, but will his desire for more drive them apart forever?
---
Buy Sinudstry: Volume 1 on Amazon.com
Buy Sinudstry: Volume 1 on Barnes and Noble.com
Buy Sinudstry: Volume 1 on DreamspinnerPress.com – Ebook
Buy Sindustry: Volume 1 on DreamspinnerPress.com – Paperback