Imagine our surprise on Saturday evening, when we received an email out of the blue from one of our editors, telling us we'd just won a Rainbow Book Award.  Second place in the Best Bi/Trans Science Fiction and Fantasy category!
Hint: It involved us staring at each other for a few minutes in shock, then losing a large portion of the evening to jumping up and down, calling our respective Mom's, and celebratory lattes. (Hi, Mom!)
So imagine getting home from the Starbucks run, caramel brulee latte's held high to toast, and finding out we'd won a second category!  Queue more stunned silence, followed by noises that made our cats very, very worried.  (And another call to my Mom. Hi, Mom!)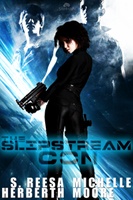 Say hello to the 2012 Best Bi/Trans Debut Novel – The Slipstream Con!
After finally getting ourselves back to a pitch that could be heard by human beings, we decided to do what Good Authors should- namely, get back to work editing the next book in the series.  It was a grand plan.  A fine plan.  It would have worked, too, if it weren't for those pesky kids- the same ones who awarded us a third Rainbow Award – the completely unexpected, and incredibly flattering Best Bi/Trans Novel of 2012!  We took second place in this category, and we couldn't be more proud to be chosen.
Thank you to Elisa Rolle, the judges, all our fine and worthy competitors and compatriots, and of course, to our amazing readers.  Knowing what a talented pool of authors we were up against, we didn't even expect to make the final cut.  We're so honoured, and we look forward to getting the next book in the Ylendrian Empire series out there to be enjoyed.  (And probably pasting that lovely award banner all over our desks for a few weeks!)